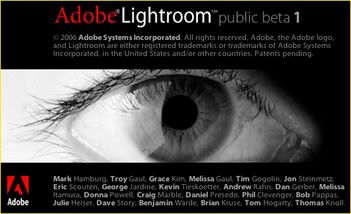 Adobe announced today a public beta of new digital photography workflow application. Though still in the beta stage, this is a very promising program and it is avilable for free download
http://labs.macromedia.com/technologies/lightroom/
during the beta process, currently available for mac only. The windows version coming soon.
NAPP
The National Association of Photoshop Professionals
has setup this resource for lightroom, check it out at
http://www.photoshopuser.com/lightroom/index.html
other resources include:
http://blogs.adobe.com/jnack/
Blog of John Nack, Senior Product Manager, Adobe Photoshop
http://photoshopnews.com/2006/01/09/announcing-adobe-lightroom/
Photoshopnews.com
http://www.luminous-landscape.com/reviews/software/lightroom1.shtml
Micheal Reichmann's first look primer.
http://labs.macromedia.com/technologies/lightroom/video/
Lightroom Beta 1 Overview Video